Fish in Bamboo Steamer
Source – Bing
Serves 4.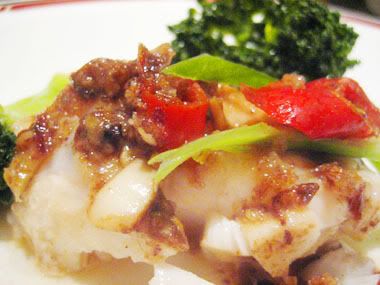 Ingredients
500grams of white fish – monkfish/snapper/pomfret/cod
4 T black bean sauce
1 T minced garlic
1 t ginger powder or minced fresh ginger
Handful of sliced red chillis
1 T soy sauce
Broccoli
2 T cooking oil
1 T sesame seed oil
Sliced scallions
Method
Find a large flat plate that would fit in a bamboo steamer. Boil water in a pot that the steamer can sit on top nicely.
Cut broccoli into small florets and line the plate with broccoli.
Cut the fish into 1.5inch thick slices and lay on plate within the broccoli circle.
Mix the black bean sauce, garlic, soy sauce, ginger and red chilli and place a dollop of this mixture on top of each piece of fish.
Place plate in steamer and cover it with the steamer lid. Place steamer on the pot with the boiling water and steam for 10 minutes.
In the meantime, heat the cooking oil and sesame seed oil till very hot.
When fish is cooked, remove steamer from the pot. Remove cover. And pour cooking oil & sesame oil mixture gently on to the fish. Be careful! The hot oil will sizzle and hiss against the moisture of the fish dish. It will create a lovely sound and aroma.
Serve immediately.
Visit
Main Blog – Story of Bing