Brownies
These were delicious and fudgy. And were surprisingly easy.
Makes 14 huge slabs.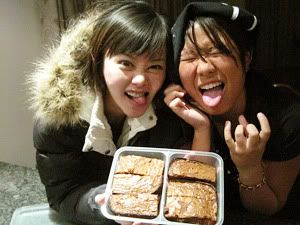 Ingredients
250g butter
250g dark cooking chocolate
4 large eggs
2 t vanilla essence
1 1/2 cups plain flour (sifted)
1 1/2 cups caster sugar
1/2 t baking powder
1/2 t salt
chopped walnuts (about 1.5 cups, or more to your liking)
chocolate chips (about 1.5 cups, or more to your liking)
Method
Preheat oven to 180 deg C.
Butter a brownie baking pan and line the base with parchment paper.
Melt the butter and cooking chocolate. Set aside to cool slightly.
Lightly beat eggs, sugar and vanilla essence.
Add egg mixture to chocolate mixture. Stir in flour and baking powder. Stir gently until all the flour is incorporated into the chocolate mixture. Don't over beat.
Pour mixture into greased pan and bake for 30 mins.
Visit
Main Blog – Story of Bing